liz neal
artist
I'd read that one of the technologies that took us humans from the Palaeolithic to modern age was sewing. the bringing together of pieces of fur, later woven cloth to shield us from the elements. Fabrics clothe us, divide, explain,?and?glamorise us, fabric designs denote all kinds of cultural agendas, historical and present day.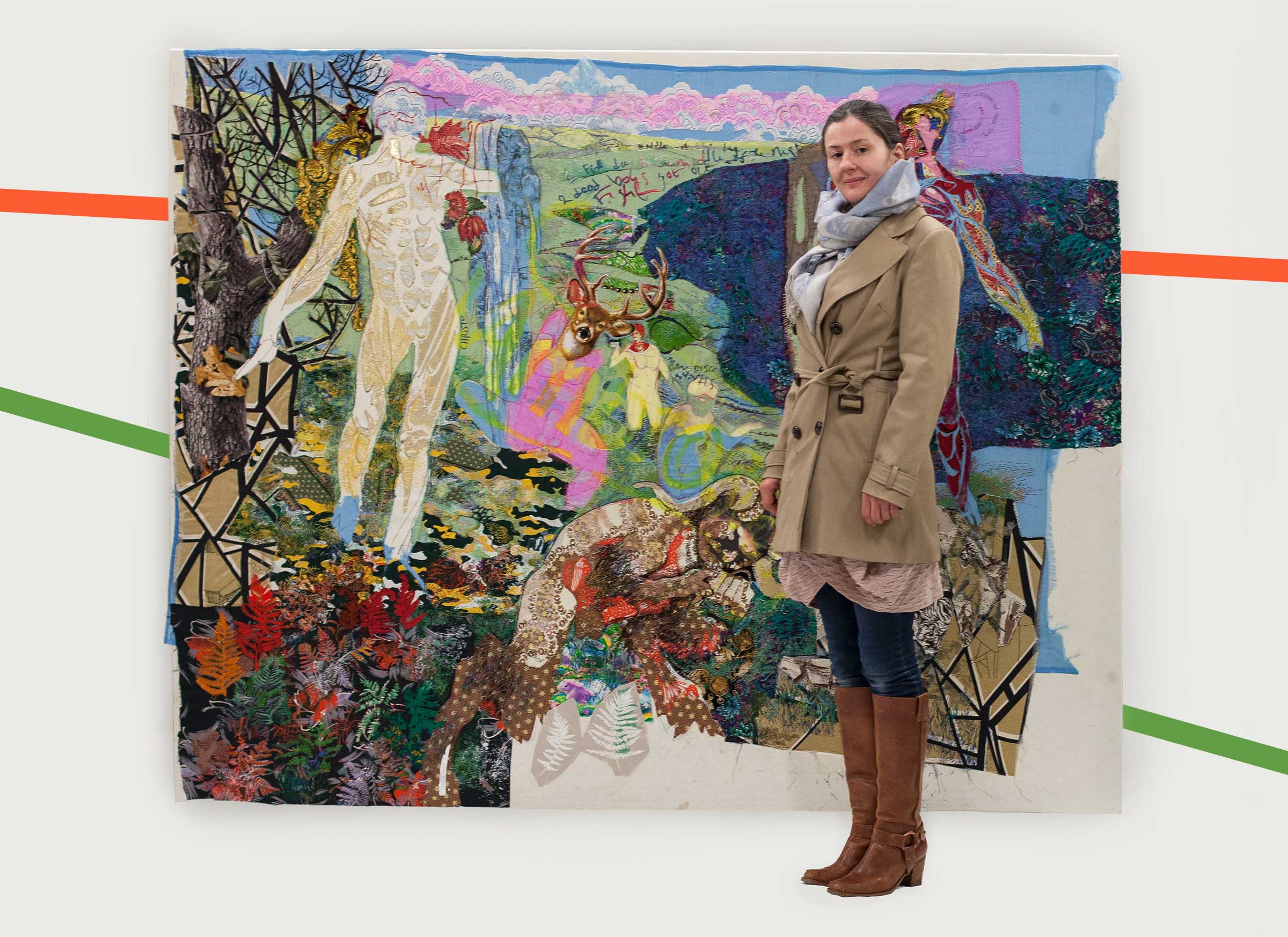 We grow up around household fabrics, table linen, curtains, bedding, they comfort and nurture us, sewing was traditionally women's work, from?needlepoint pastime to household utility. As a woman that resonates with me. I can remember wearing the clothes that mother made for me. subsequently making my own.
These notions go a little way to explain an attraction, initially intuitive, I have to bits of coloured and patterned fabric and the thread that binds them. My subject matter is inspired by the history of painting and?the history of visual culture.
The images that illustrate our cultural timeline, that have persuaded us directionally, emotionally, politically. From Renaissance paintings to newspaper front-pages By cutting and rearranging?fabrics, appliqué,?sewing and embroidering I create large scale compositions (I think of them as paintings, with fabric and thread on my palette instead of paint) that depict figurative images, some vaguely narrative others more iconic.
Remnants of cloth are re worked into new visual dialogues. Each fragment of fabric carrying with it a little history of its own, creating layers of novel meaning. this is re-appropriation, recycling and collage.old stories into new.
exhibitions
Born 1973, Wales. Lives and works in London. Education: 1999 - 2001 MA printmaking, Royal College of Art 1996 - 2000 BA (Hons) Fine Art, Middlesex University
Selected Solo Exhibitions
2012
- New Paintings, Thomas Cohn Gallery, Sao Paulo Brazil (with publication)
- Sex, Drops + Needlepoint (installation), Sartorial Contemporary Art, London
2010
- Whatever is wrong with Elizabeth Jane?, Sartorial Contemporary Art, London
- New Paintings, Sartorial Contemporary Art, London

2009
- Some Product, Sartorial Contemporary Art, London

2004
- The Rose garden, 404 gallery Naples
- Bodies, M'ars Gallery, Moscow
- The Lair of the Lotus Eater, Store Gallery, London
- SHOW - studio Collaboration with Nick Knight, London

2003
- Gloriana, One in the Other, London

2001
- Death to the fascist insect, Anthony D'Offay Gallery, Haunch of Venison Yard, London
Selected Group Exhibitions
2011
- Lavir 'Amara, Me Gallery, New York

2010
- 9 Sheds, Sartorial Contemporary Art, London

2009
- Brampton Border, Chelsea Flower Exhibition, London

2008
- Calvert22, London

2007
- An Archeology, 176 Gallery, Camden, London

2006
- The Triumph of Painting Part 6, The Saatchi Gallery, London (with book)

2005
- Dolore, curated by Klarita Pandolfi & Harry Pye, Sartorial Contemporary Art, London
- Group Exhibition, 404 Arte Contemporanea , Naples

2004
- Mothers, curated by Harry Pye, The Ragged School
- New Blood Exhibition, Saatchi Gallery London (with book)

2004
- Girl on Girl, Transition Gallery, London

2003
- New Displays, Saatchi Gallery London (with publication)

2002
- It's Only Words, Ausgang, curated by Liz Neal, Studio Voltaire, London

2000
- RCA Secret , Royal College of Art, London

press
*2001/April—Art Review/The Artist's Champion/page34
*2001/vol1— Pure Magazine/Death to the Facist Insect etc…/page74
*2002/aug12-18— Big Issue/exhibitions and exhibitionists/no 501/page31
*2002/June —Sleazenation/Kill Them all/Francis Summers/
*2002/June—The Face/Elizabeth my Dear/no65/ page138
*2003/sept— Dazed/ Eyespy,fashions unsung heroes/vol2,issue5/page85
*2003/oct——Time out London/art review/jen Ogilvie/no1729/page52
*2004/march—Metro life/eveningstandard/Busy Lizzie/danielle Roberts/page30-31
*2004/march—Sunday Telegraph/What Saatchi did next/review page9
*2004/march 26— Evening standard/Blood on the gallery floor/B Sewell/ page32
*2004/march 21—Sunday Times Culture magazine/pges6-7
*2004/dec-jan—ID magazine/250/pages123&126
*2005/Jan 9—-Sunday Times magazine/front cover/Art or Artifice/page 30
*2005 /march— Russian review magazine/ page 53
*2005/aug13-19— The guide/the gaurdian/review/encounters with the subordinary/page 36
*2007/sept19-25— Time out London/art/collectors additions/H sumptre/page 46
*2007/oct ——- Vougue(british)/MY Space/page 373
tag heuer archive rolex geneve swiss made 18k 750 price 78488 prix replica watch breitling tourbillon price radiomir panerai replica watch tag heuer cah1110 battery mother of pearl rolex mens uk replica watches tag heuer link bracelet breitling superocean a17364 review swiss replica watches